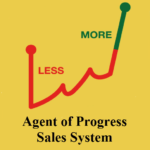 The development of the Agent of Progress Communication, Marketing and Sales System began in 1974 as part of a research project studying life insurance agents' poor sales results with qualified prospects in need of their products.   A select group of experienced life insurance agents demonstrated a surprising lack of sales discipline and favorable outcomes with qualified prospects.  These findings led to the question of what sales professionals needed to KNOW to maximize their results. This initial inquiry then expanded into the question of what communications, marketing and sales skills did sales professionals need to HAVE to achieve their economic potentials. These fundamental questions led to the related question as to whether a training program could be created for sales professionals that would enable them to convert prospects more efficiently into buyers in order to achieve their financial objectives.
Early findings of the research indicated that sales professionals would not achieve desired sales results in an efficient manner, if they continued to lose prospects because of ineffective communications methods, and to lose revenues to ineffective personal and prospect brain function management.
These questions and related findings led to the development of brain function management models and an interactive communications process that formed the basis for the AOP System, a communication, marketing, and sales system that could be taught to both inexperienced sales personnel and experienced sales professionals, to increase their effectiveness. In 1974, after 3 years of preliminary research, a sales training program pilot project was initiated for experienced life insurance agents.
The successful outcome of the initial pilot project led to a 30-year project training approximately 400 individuals with varied financial services industry knowledge and experience for financial consulting careers. During this period, these individuals trained in the Agent of Progress System Communication, Marketing, and Sales System, set sales records in the life insurance industry, commercial banking, and the investment advisory industry.
The data that was gathered from the thousands of marketing and sales interactions with prospects and clients led to the development of the current iteration of the Agent of Progress System Communication, Marketing, and Sales System.